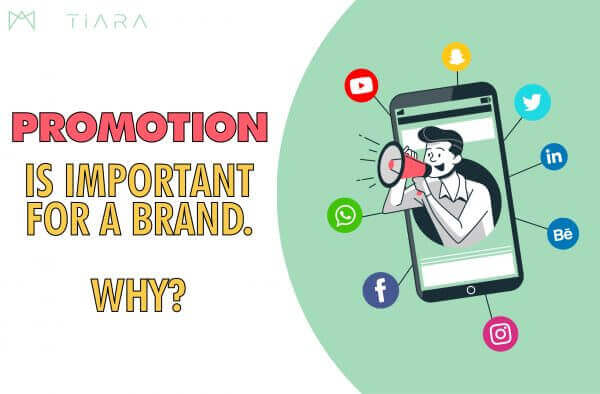 Contact Us
Share this article on:
Promotion Is Important for A Brand. Why?
2020-12-17 01:16:00 by super.dev
WHAT IS BRAND PROMOTION?
Every marketer needs to market their brand. Brand promotion is also one of the marketing strategies. Brand promotion is the way to inform, remind, persuade, and influence the customers to drive their decision towards purchasing your brand products or services. Not only seek for marketing, but marketers need to make it balance within marketing and branding. Marketing for a brand will encourage someone to buy a product or use a service while branding can build loyalty and a long-term customer base.
WHY BRAND PROMOTION IS IMPORTANT?
Here are benefits marketers will get when doing a brand promotion.
INCREASE PAGE TRAFFIC
Doing a brand promotion can help you with increasing your page traffic. The more you promote your brand, the higher traffic you will get for your page. Not only that, the chances for your target customers to be interested in your products or services will be higher as well.

The promotion that can increase your page traffic can be done by asking your followers to like the specific post or like your page to get free samples that work wonders for them. Once they try your product and it works well with them, they will come to your page again and make purchases.
BUILD LONG-TERM BRAND
Brand promotion is one of the best ways to build a successful brand image. Brand promotion can benefit your brand as it helps your brands to build a long-term brand. Do you know what is one of the benefits? It can remind your previous customers how well your brand has served them and it can persuade their purchasing decision towards your products or services. So what you can do is do a lot of brand promotion as frequently as you can (according to your brand capability) of your products or services to become more engaging.

Psst; don't do something out of your brand capability.
APART FROM COMPETITORS
Brand promotion can set your brand apart from its competitors. No brand would ever construct a promotion if there wasn't any competition. Why? Because marketers will always try to stay ahead of their competitors in order for their customers to keep doing business with them. Especially when there is a company that sells similar products or services like them, marketers need to have a special promotion to make their customers stay buying from them.

In terms of spreading their promotion, marketers can use several advertising and marketing methods.
CREATE MORE DATA
Brand promotion allows you to use your available data to create more useful data from it. While you are doing business, you actually have collected information from thousands and millions of customers. By using the right platforms to measure all the data, you can know your customers' trends, patterns, and inclinations. By further study about your customers' data, you can know your customers better. From there, you can launch more successful promotions for your brand.

"You can have data without information, but you can't have information without data"- Daniel Keys Moran
FINAL THOUGHTS . . .
Those are the reasons why your brand needs a brand promotion. Brand promotion can benefit your brand by increasing your page traffic, build a long-term brand, set your brand apart from its competitors, and use available data to create more useful data. Though brand promotion can skyrocket your sales and can bring benefits to your brand, it requires a lot of effort, money, and time. But once your brand identity has established in the market and well-known by many people, the result will be long-term with little effort.