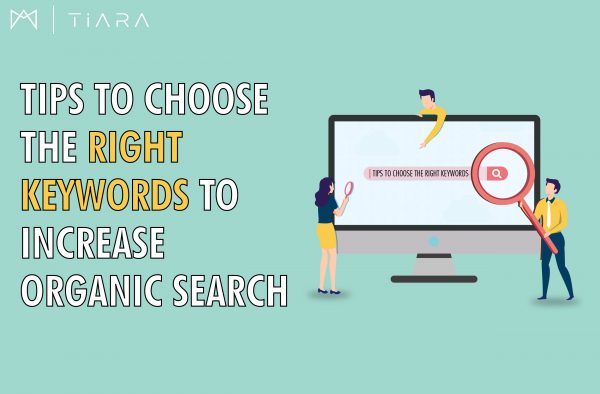 Contact Us
Share this article on:
Tips to Choose the Right Keywords to Increase Organic Search
2020-12-22 02:35:00 by super.dev
One of the biggest challenges for businesses is to make sure their potential clients find them instead of their competitors when looking for products or services. But it is not pay-per-click advertising. It's about how you can make your potential clients found you using an organic search. There are plenty of ways you can do to increase your organic traffic without any cost. One of them is choosing the right keywords to put in your sites.

Let's take a look at how to choose the right keywords to increase your site's organic search.
4 TIPS TO CHOOSE RIGHT KEYWORDS TO INCREASE ORGANIC SEARCH
1. USE RELEVANT KEYWORDS
Use right and relevant keywords that suitable or match your content. Why? To ease your potential customer to find your site using the keyword that they search. Not only that, by using the right keywords, you can also rank higher in search engines.

As for example, if you are in the fashion industry and you are selling women's clothes, the keywords that you can use to match your potential clients' search are:

i – Women clothes
ii – Women fashion
iii – Fashion dresses
iv – Women fashion dress
2. BEWARE OF SEARCH VOLUME
Why do you need to beware of search volume? It is useless if you use keywords that aren't searched by your potential clients. So, before you decided to use some keywords, you need to make sure that people are searching for your keywords. Here is a keywords tool that you can use to look for keywords that rank higher in search to use for your business.

WordStream – WordStream's Free Keyword Tool makes it fast and easy for you to find the keywords your business needs to drive traffic through organic and paid search. You can see the rank of the keywords that you want to use and the total audience searching for it.
3. KNOW THE INTENT
Know your audience's intention when they visit your site before you choose the keywords to use in your site content. Why? Because the keywords you use might be the reason people searching because they want to buy your products or services, or people just want to learn. In this case, you can do a lot of research on why people visit your site. From there, you will know their intent in visiting your site.
4. SET A COMPETITION
Choose keywords that you can reasonably hope to rank for.⁠ Did you know you can use Google Keyword Planner to check which keyword rank higher in Google Search Engine according to your work field? Yes, it is! Not only your work field, but you can also search for keywords on your website that get higher rank in search engines. By having this data, you can plan your website content well to frequently use keywords that get a higher rank.
CONCLUSION
In conclusion, these are four tips on what you can do when choosing the right keywords to increase your site organic search. The tips are to use relevant keywords that match your content, beware of search volume, know your audience's intention, and set a competition. Only when you are done with these tips, then you are ready to get the best keywords for your site to increase your organic search in search engine.

Psst; if the tips still won't get you the best keywords, you can reach us to ask for our expert help – our expert copywriter that can make you rank higher in search engines.