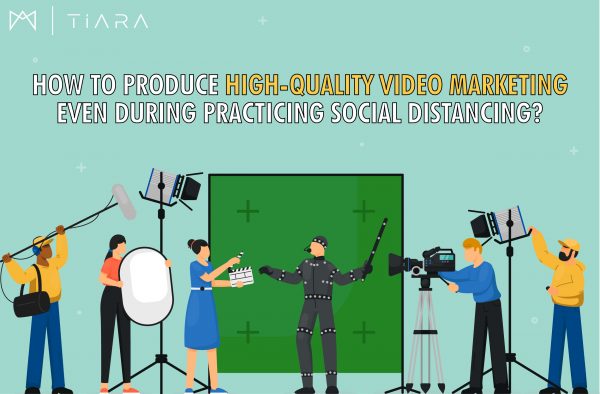 Contact Us
Share this article on:
How To Produce High-Quality Video Marketing Even During Practicing Social Distancing?
2020-12-17 02:15:00 by super.dev
During this Covid-19 pandemic, people are told to keep a meter distance with each other. This is because the government wants to circumvent the spread of Covid-19. However, for businesses, their business needs to run as usual in order for them to keep their businesses higher. No matter what problems they are or the world encountered, their businesses must go on. That the real life of a business. The same goes to video marketing, no matter what problem marketers face right now, video marketing is important and needed for their brand. And some of them can't wait until the end of the pandemic to produce video marketing.
Let's explore our posting to find out how marketers can create their video marketing even during practicing social distancing.
HOW TO PRODUCE VIDEO MARKETING WHILE PRACTICING SOCIAL DISTANCING
1. REUSE EXISTING CONTENT
Not every content is worth being dissolved after one use especially when you have engaging content to be used. You can reuse your old content to create new content. In this case, you need to be creative in order to create a different video using the same content. The reason why you need to do this is that you may not all be fortunate enough to have extra footage laying around, but at least you are lucky you have a few more tricks to play around with the same content. So what I want to conclude here is, try to create something different and unique using the same content.
Related Articles REASONS WHY YOU DIDN'T HIT MORE FOLLOWERS ON SOCIAL MEDIA
2. DRONE AS A SHOOTING TOOL
If you didn't major in drone yet, this is the right time to learn it. Why? Because the drone has become more and more popular nowadays as the drone is more cost-effective and accessible to the average users. A high-quality camera that attached to the drone can provide a new creative direction towards your video marketing – with shots that can reach just about anywhere. Not only that, but drone shooting is also a great way to keep your social distance as drone shooting required only one person at one moment.
Here are some other benefits of using drone;
i – Allows showing something from a unique perspective
ii – Budget-friendly and more affordable
iii – Approach unique video angles
iv – Acquire minimal interference
3. USE TRANSMITTER
What is a transmitter? A transmitter is an electronic device used to transmitting domestic audio and video signals wirelessly from one location to another with a live view using real-time. One of the useful things about this device while shooting the video is, the person in charge can monitor video footage from far without they need to be with the videographer all the time. Not only that, but the transmitter can also work as a communication device. By using this device, you can always keep your social distancing. It is actually not that hard to practice social distancing during producing video marketing.
CONCLUSION
In conclusion, these are ways to produce your high-quality video marketing even you are practicing social distancing. Ways you can do to keep your distance are reuse existing content to create new creative content, use a drone as a shooting tool, and use the transmitter to communicate with each other. These ways might help you a lot. Just for your information, Tiara can help you with producing high-quality video marketing by applying those ways as we can transform your raw footage into a powerful video, use a drone as a shooting tool, and use transmitter to communicate with you and for you to monitor our shooting.